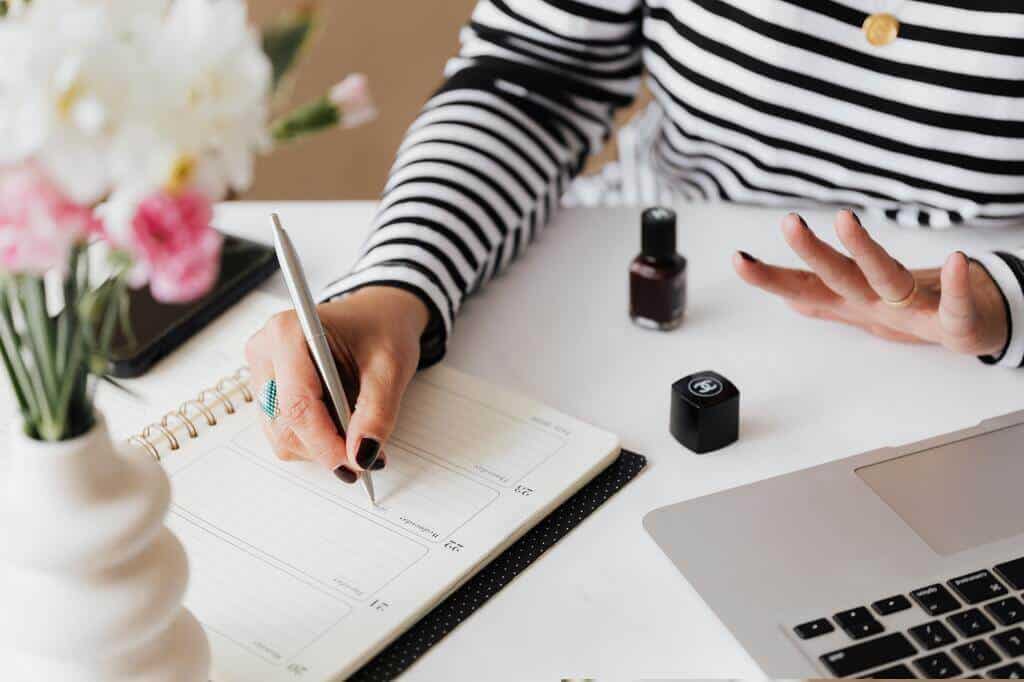 How Journaling Can Change The Course Of Your Life

There is something really therapeutic about writing down your thoughts. Often times we get too caught up in life, and thoughts go crazy in our heads, that setting the steam off through the pages in your journal can be a lifesaver. It's an amazing way to clear your mind and put ideas into perspective.
Unlike a diary, where you jot down events in your life, The practice of journaling is more of an expression of your feelings, thoughts, and memories, that helps bring you to the present moment.
It's a form of self-care and well-being.
Why Should You Even Care About Journaling?
Before integrating journaling into your daily routine, it's important to understand what it really means and why it's beneficial.
Journaling is a written account of your thoughts and feelings as you navigate through everyday life. The beauty of journaling is that there's no right or wrong way to do it. It's a deeply personal experience that can take many forms.
Benefits of Journaling
Improves mental well-being
Gives you a place to express gratitude
Helps you work through challenges
Helps you set and accomplish goals
Let go of judgments (write for your eyes only)
Gives you a space to get out of anxious thoughts
Gives you clarity by letting you work through decisions
Helps you focus on the things that are most important to you
Strengthens your emotional resilience and helps you find more joy in life
Helps creative expression
Aimee Chase, the author of the guided journal Purpose, Not Perfection, said "You don't have to rack your brain to consider what you'll write about. You don't have to research. It's all in you,"
Journaling will sometimes look like a diary entry, the next day a list of goals, other times it's an outlet for your emotions and oftentimes it can be a safe haven when you are too afraid to face your thoughts and feelings head-on. It's really about what works for you. It's an incredibly flexible practice that can be easily tailored to your needs.
Whatever type of journaling you practice, the end goal is one and the same – It helps you focus and put your mind at ease.
Types of Journaling
1. Reflection Journal
A reflection journal is a safe space to jot down the events of your day. It can help you process complex emotions and thoughts experienced during that day. It can also be a private place to reflect on your life.
This journaling technique is a therapeutic practice that can help you develop visions for the future or simply get to know yourself a little better. You can look back on previous entries, see your progress, and track your goals.
2. One Line A Day
One-line-a-day journaling can help you get into the habit of writing every day. It's not too much pressure and not too overwhelming to jot down a sentence, so you'll be more likely to keep this practice.
Writing even just one line a day helps capture key moments, and mundane thoughts or record simple observations. You don't need to capture everything. Over time, you will notice patterns, and what seems ordinary now might soon be a memory you'll love to reminisce about.
3. Unsent Letters
An unsent letter is written for catharsis and is never meant to be mailed. It's an incredible journaling technique to help you get closure or foster forgiveness and peace of mind.
This journaling technique is amazing because it helps you realize and notice your evolution as a person and how much you have grown and changed the way you think.
It lets you tap into stores of wisdom that you didn't know you had. It gets you in touch with your intuition especially when you're facing tough decisions.
For an incredible boost of confidence: Try writing a letter from your future self to your current self, or better yet write a letter to your future self, your future friends, or your future lover.
To let off steam or express gratitude: Write an unsent letter to anyone who is a part of your current life like your family members, friends or enemies, people that you interact with at the present moment, or your ex.
Talk about how your life is today
What worries you the most?
What mindset blocks and limiting beliefs you are struggling with
What hurt you?
How has this person affected you?
What's going very well in your life currently?
What are your wishes and hopes for the future?
Reading these unsent letters years later and noticing how all these situations you talked about evolved and changed is just purely magical.
4. Letter To Your Inner Child
Writing a letter to your inner child is another great exercise because it involves addressing emotions and experiences from your childhood. It's about recognizing how you felt back then and telling her what she needed to hear.
Many of us may still hold grudges and reminisce about the past. We hold on to things as a way to escape from the present and it's imperative to let go of that.
5. Visual Journaling
Visual journaling can be another great way to combine artistic inclination with personal reflection. More tied to daily life than art journaling, a visual journal gives you a space to process your feelings and log your life through illustrations.
6. Free Writing
Free writing means setting a timer and letting your thoughts flow, unedited and unscripted, onto the page. It's an incredibly powerful practice to make sense of your thoughts and mixed emotions.
Free writing is all about keeping your hand moving and not pausing to go back and edit or construct a perfect phrase. The goal is just to keep on writing whatever comes to mind for a specified amount of time or a number of pages.
Whether that's describing your surroundings, remembering your first thoughts in the morning, or brainstorming a brilliant new idea. Free writing is a journaling technique that's all about letting whatever emerges in your head flow onto the pages without letting your inner critic silence you.
7. Gratitude Journaling
This is one of the most powerful journaling techniques with life-changing possibilities that are proven in studies to make you a happier and more productive person. It's a proven practice backed by successful entrepreneurs, spiritual leaders, and even science.
Expressing gratitude also helps you stay grounded, motivated and positive even through difficult times.
Write about being grateful for your life, your family, your work
Write about an old relationship that helped a lot
An opportunity you have today
An amazing experience
Something good or great happened yesterday
A dream you believe will come true (future journaling)
A failure that you know is a blessing in disguise
8. Scripting
We all know the importance of writing down our visions with hopes of manifesting them in the future. Scripting is writing as if you are already living your dream life.
A step further is not only to write your end destination but also your journey of how you got there. The journey is to be written in the past tense as if you've lived it with step-by-step details on how you've been able to manifest the desired life.
So, where do you start? You could be imagining yourself:
Living in your dream home, or living in your dream country
Being the person you want to be
Your daily routine and habits
Your financial situation
The business that you finally have
Working in your dream job
Your health and wellness
9. Bullet Journaling
Bullet journaling is an organization tool developed by a digital designer Ryder Carroll who first used it at university to manage his ADD. You can buy a pre-made bullet journal or make one yourself.
Basically, bullet journaling is a diary for not just writing but also drawing. Instead of blank pages, a bullet journal (or BuJo, for short) contains sections to log daily to-dos, keep a monthly or weekly calendar, jot down notes, track both physiological and mental health, and record both short- and long-term goals.
Journaling As A Habit
Learning how to start journaling is the easy part but making it a daily habit takes self-discipline. Remember, developing any habit, including journaling, is a journey, not an end goal. Building good habits never happen overnight.
So if you want to get out of this prison of negative thoughts and immerse yourself in positive well being then you have to focus on working towards an improved version of yourself every day. If you stick to it, you'll start to see the positive outcomes of journaling manifest in your personal and professional life.
The goal of Journaling is aimed at personal growth, self-discovery, relaxation, and visualization. There's no right or wrong way to journal you just need to make it your own.
Ready to make a commitment and change the course of your life? Here's a free copy of Journal Prompts to help your journaling be an amazing experience.