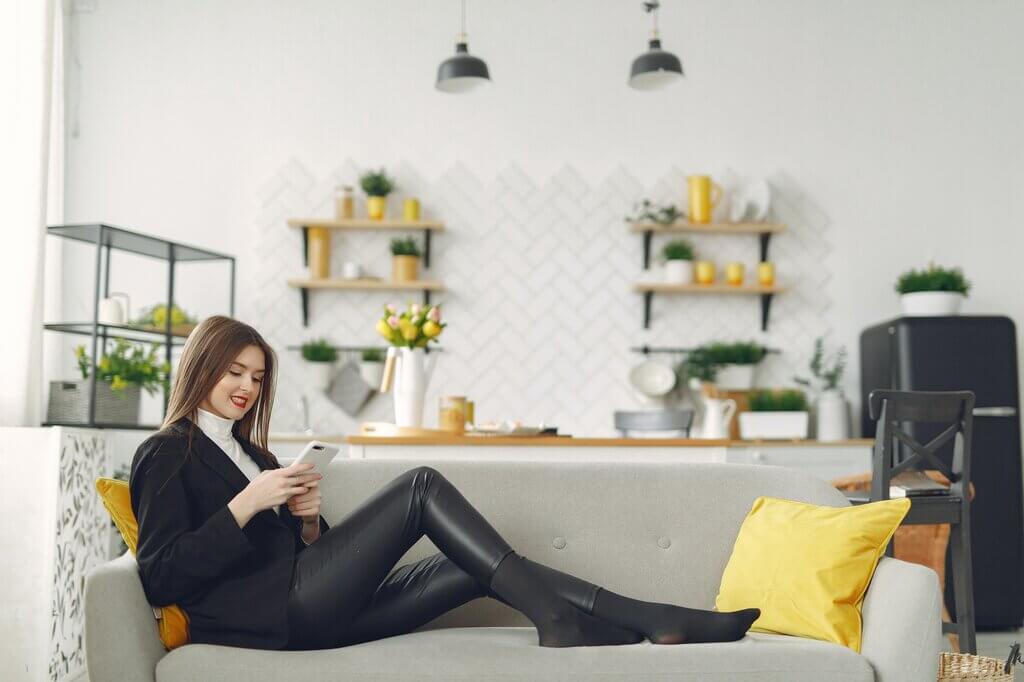 15 Must have Lifestyle Apps, that you need to know about
Self Improvement
Fabulous
The fabulous app is a self-care app to help you build better habits and achieve your goals. It gives you an easygoing approach to self-improvement. You can transform your life by building a new routine, all you need to do is pick a "Journey" to start—like losing weight or concentrating better. It offers smart-targeted health advice for healthful sustenance of life, a Science-based habit tracker focused on wellness and mindfulness, a library of meditations and exercise routines. It is one of the best apps to make your life better.
Fabulous offers a Free Trial, then you have to update to the Premium version
FLIPD
Teach your mind to refocus with Flipd. This app has dozens of ways to help you stay focused and track your time well spent.
Flipd is a powerful app that can help motivate you to curb phone habits, limit distractions, and become more productive! The app encourages you to unplug from your phone for the period of time that you choose. It locks some apps that may distract you from finishing important tasks and help you to focus.
---
AFFILIATE DISCLOSURE: Some of the links in this post may contain affiliate links. This means that If you make a purchase through these links, I might get a commission at no extra cost to you. For more information please review our Privacy Policy.
---
It's a time tracking & social productivity app all in one.
Flipd is available to download for free, but you can gain access to a fully customizable experience with a premium subscription.
Habit Builders & Trackers
HABITBULL
A Habit Tracker is an excellent way to keep track of all your habits both good and bad. Find it difficult to break bad habits? Most people do, but Habitbull sets out to break this trend.
The app keeps you accountable by showing patterns and streaks. It also provides optional reminders, both audio and visual, multiple times a day to make sure you don't repeat bad habits. You can track each multiple habits with its own calendar and can be integrated with Google Fit
Available for free on iOS and Android. But you can gain access to a fully customizable experience with a premium subscription.
STREAKS
Streaks is a to-do app designed to help you form and maintain good habits. It's a simple to use habit tracker which tracks when you've completed tasks. This app will automatically ask you to complete your tasks, but you can also schedule them at specific times. Streaks allow you to track five habits for free and works offline as well. Every day you complete a task, your streak is extended.
Paid app
Brain Training
REMENTE
Remente is a health and fitness app that acts as your life coach and gives you a bunch of self-help tools to earn lifestyle enhancement and habits for individual growth, mental strength, and wellbeing.
It offers courses and articles covering a wide range of topics, including stress management, mindfulness, relationships, and more. The resources have been created by experts in the fields of psychology, business, and personal development.
This is one of the best healthy lifestyle apps to avoid anxiety, stress, and depression and lets you focus on what really matters.
Remente is available to download for free and offers a Premium
ELEVATE
Elevate is an award-winning brain training tool designed to build communication and analytical skills. This brain-training program is designed to improve your focus, speaking abilities, processing speed, memory, mental math skills, and more.
Get a personalized training program that adjusts the more you use it to maximize your results. Stay sharp, build confidence, and boost productivity.
Elevate offers a 7-day free trial as well as a basic free version. If you choose to subscribe, you will be charged a yearly subscription fee according to your country.
LUMINOSITY
Train the skills that matter to you most. Luminosity is a mind-stimulating app that prides itself on transforming science into brain-friendly games. To achieve optimal game performance, a team of scientists diligently ensure each game maintains its core mechanics while designers and developers add exciting game features and themes while making sure each game is accessible, easy-to-use, engaging, and challenging to people of all ages.
Lumosity targets skills like Memory. Processing Speed. Problem Solving. and more. It focuses on daily exercise for your mind. It's brain training tailored for you.
Lumosity is free to download on Android and iOS, eventually, you have to upgrade to a premium subscription
Time Management
RESCUE TIME
A tool to help achieve the perfect work-life balance
RescueTime's goal is to eliminate distractions and focus on productivity. It can track time used in websites, set goals, and even provide a weekly email report. It gives the user feedback such as alerts when daily goals have been met.
This app will show you what diverts your attention away from focused work and get an automatic account of your workday. 
This free Time Tracking online tool is available in both free and premium variants.
TOOGLE TRACK
Toggl takes a simplistic approach to time management, with included tracking reminders, and idle detection to make sure the job gets done. The good news is this app will allow you to track time from your desktop, with features such as tracking reminders, Pomodoro timer, and offline mode.
It also has cross-platform support, so for example, time tracking can begin in the browser of a desktop PC, and then be stopped on a smartphone with time entries synced between devices; there are mobile apps and browser extensions to accomplish this.
Toggl is free for up to 5 team members. If you're an individual who just wants to know where your time goes, the basic free version is all you need. If you have a team or need billable hours calculation
This free Time Tracking online tool is available in both free and premium variants.
Meditation, Calm, Rest
HEADSPACE
When you want to get into a calmer or happier mindset, this app should get a tap. It's full of meditations that give your mental game a push in the productive direction and help gear down into a de-stressing mode.
Get happy. Stress-less. Sleep soundly. Headspace is your guide to mindfulness for your everyday life.
Walk In GYN Care, founder Adeeti Gupta, M.D. says, "It takes the pain out of 'taking the time out to meditate or the work out of 'clearing your mind' for meditation." Because they're all guided sessions, you just have to tune in and feel good.
Headspace is available to download for free, with free trials and limited free features. If you want to upgrade to get full access.
INSIGHT TIMER
The Insight Timer app offers over 45,000 free meditations and adds 10 or more free guided meditations every day. Browse the thousands of meditations to begin building a daily habit, jump into discussion groups and community features, and use the music tracks and ambient sounds to help calm your mind and promote sleep.
It boasts a Simple design with over 12,000 free, searchable guided meditations. Includes a new user meditation experience assessment and suggestions for levels from just starting out to over a year or teacher status.
Insight Timer has an extensive free version as well as a Member Plus subscription.
CALM
Calm has a wide range of guided meditations, nature sounds, and a beautiful interface with nature scene backdrops. Relaxation at your fingertips!
Calm is an award-winning app that has calming exercises and breathing techniques to help you relax.
They offer a limited free version and a free 7-day trial of the premium version
Sleep
SLEEP CYCLE
If you want to develop a healthy sleep cycle. This app can help you achieve that! It's a sleep tracker, alarm clock (with a dozen smart-alarm sounds and lulling sounds to choose from), and a restfulness improver.
This app is good for people who want to see sleep patterns and how they correlate with their daily activities. It detects and tracks sounds like snoring and sleep-talking, which will help you better understand interruptions to your sleep patterns so you can make adjustments to get the most restful sleep possible.
They offer a limited free version, then you have to update to the Premium version
Mental Health, Coaching
HAPPIFY
How you feel matters! Whether you're feeling sad, anxious, or stressed. Happify aims to help users reduce stress, anxiety, and negative thinking, and improve emotional well-being. 
The app includes a variety of science-backed games and activities paired with guided meditation and relaxation audios that aim to give your emotions and mental health a quick boost.
Did you know that stress has been linked to the six leading causes of death: heart disease, cancer, lung ailments, accidents, cirrhosis of the liver, and suicide. Happify builds on a huge body of research about mental health to help users overcome stress and negative thoughts and build better emotional health and resilience.
Happify is technically free. The premium version gives you access to more advanced options and detailed statistics.
JOINBLUSH
The Blush personal coaching app is like having a life coach at your fingertips. It's an app-based life coaching and counseling to help you through relationships, career changes, and family issues
When you sign up, you'll be matched with a coach (most are trained mental health therapists, though they're not specifically working in that capacity here). You then have access to your coach for the advice, support, problem-solving, or goal-setting you need, via video and/or text chat.
It is a paid service that requires enrollment in a monthly plan.