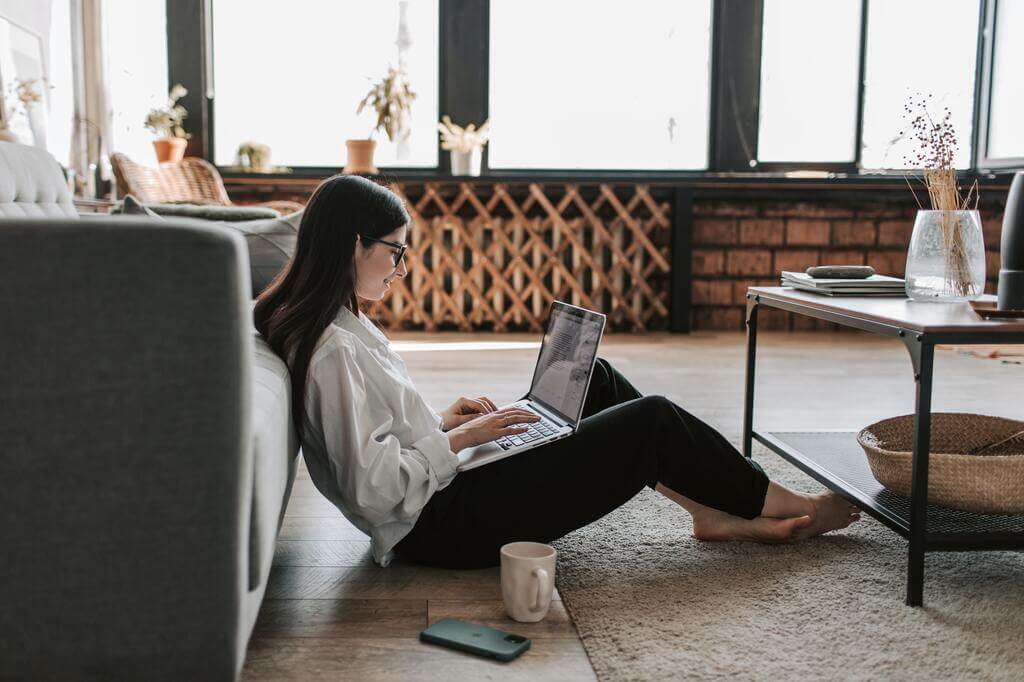 Why your best bet for a successful financial future has something to do Online

Tired of the 9 to 5? Worried about skills, resources, age restrictions – the fact that you don't have a market, and most importantly- you don't have enough capital to start a business! These are very common thoughts hindering us from making a shift.
I'm sure you've heard of the laptop lifestyle- A designed life where freedom of time, location, and passive income flow, sounds exciting, right?
Whether you're someone who's currently in a job, running a physical business, a stay-at-home mom, or out of work – the perks of working online should definitely be considered. Sure, there are drawbacks, but take a fresh perspective maybe the benefits outweigh the disadvantages.
Here are some facts that you might want to consider when starting an online career or starting an online Business
---
AFFILIATE DISCLOSURE: Some of the links in this post may contain affiliate links. This means that If you make a purchase through these links, I might get a commission at no extra cost to you. For more information please review our Privacy Policy.
---
Online Career
Why you should work online?
If you are looking for a job or even if you are working and you find that there is no space for growth sometimes you end up asking yourself – "What are my other options?" Unless you have a good job that you enjoy and pays you good money, trying to find a decent job with the economy as it is today is really very hard.
Have you considered doing your own thing for a change? You know, that stuff that lights you up and makes you look forward to completing it every waking hour! If so, then read more – it might be time to consider making a shift to working online.
If you're like millions out there, you've finally realized that the traditional 9-to-5 lifestyle isn't for you: There's a popular trend – It's referred to as lifestyle design the flow of the 21st century and it may be the answer to your dreams. It simply involves working online.
Top 9 Benefits of Working Online
1. Save Money
You will notice an immediate difference in your bank account when you don't need to bear the costs of commuting. You won't have to force yourself into a suit, polished shoes, or a uniform anymore if that's not your style.
Overpriced meals from the nearby deli will be a thing of the past. Instead, you will have time to prepare your favorite lunch in the comfort of your own kitchen
2. Save Time
Want to reclaim a couple of hours of your day? The time you spend commuting can be time spent on exercising or cleaning the house, preparing healthy food, and enjoying unhurried meals.
You can also avoid wasting large chunks of time stuck in pointless meetings listening to some pointless presentations or dealing with lazy co-workers or office gossip. You can spend time wisely on things that matter in your life.
3. Own Your Schedule
You can do what you want when you want. This simply means Flexible hours. You will be able to set your own schedule. Workaround your deadlines and adjust them to suit your personal or family needs.
Remember, you won't have a boss looking over your shoulder to see if you have finished your work, it will be up to you to set your schedules.
4. You are not limited to the amount of money you can earn
The services you offer, the clients you manage to take and the reviews from a job well done will determine the amount of money flowing into your pocket.
You will notice, that once you start on this path, you will see more opportunities to entice more customers and clients. Therefore, consistently developing new skills is a must.
5. No Boss
You are the Boss! You are free to choose what services you offer, which clients to take in, the price range for your services, and the timetable. You can work as you see fit not as your boss dictates.
6. Have more time for yourself, family, and loved ones
Working from home can be great for spending time with the people that matter to you. It gives you more time to do the things you want to do, and attend important events. You don't need to wait for the weekend to have time for family and friends, your time is yours. All you need to do is manage it well.
7. Work Anywhere
Can you imagine working on your laptop, the breeze blowing through the coconut leaves, overlooking the view of the sea in some exotic destination? Or sipping coffee in some cafe while glossing over some of the ancient buildings in Europe or simply sitting in your garden- the point is you have the freedom to create your office setting!
Obviously, in the beginning, you might not have the funds to jet off to the tropics. But the more you learn the ins and outs of the business it won't take long to formulate a plan and gain some skills that will allow you to work wherever your heart desires.
Your Office Can Be Anywhere, seriously Anywhere! You don't need to be tied up at home at a desk. All you need is a decent computer and a good internet connection.
8. Become More Independent
Because you work alone, you'll find yourself developing the skill of looking for your own answers and becoming more proactive in solving problems and finding solutions. Of course, having a friend who has knowledge of the services you offer will make things easier. But being resourceful and bold will usually carry you through, soon enough- google will be your best friend.
9. Avoid the Office Politics
"You can't choose your family," and the same goes for your co-workers. Working remotely just makes things easier, you can forget the office drama altogether. You won't have to deal with toxic people and situations again!
Online Business
Dreaming of being an entrepreneur? Becoming the boss of your own business can be an exciting thought. However, starting a traditional brick-and-mortar business no matter how good it sounds, needs deep pockets, the right skills, knowledge, and resources otherwise it can turn out to be a nightmare due to expensive overhead, slow scalability, and low margins. etc.
Online businesses on the other hand can be very appealing because they don't have the traditional hurdles that most new ventures face. Starting an Online business can be cheaper, faster, and less risky because you don't need to rent space, it's open to a huge market, plus suppliers and overhead workforce can be outsourced.
Also, an online business is open 24hrs, caters to a huge customer base (worldwide), and most importantly the "passiveness" of it and how it doesn't restrict you from working when and where- is something to consider.
All businesses whether offline or online both have their strengths and weaknesses; however, if you have gone the traditional route, it's time to consider the latter.
10 Reasons to Start an Online Business
1. You can start now
There are a lot of free online training classes available. Research and self-study can already get you somewhere- you just need to learn by doing, mistakes are your best teachers.
Google is your friend, it has all the information and resources you need to run your business. You can also get ideas from other online businesses – the key here is to take action.
2. Minimal Start-Up Cost
Do you know you can start a business without a physical product? no inventory, no overhead! Yes, all you need are your creative skills and a website to showcase your services/business. Consider drop shipping or affiliate marketing, these are just two of the businesses you can start to make money on, with minimal start-up cost.
There are also free sites to upload your content or your videos, all you need is to be creative. check out 11 easy online businesses anyone can do.
3. Work Anywhere
Not being tied to a particular location or desk from nine to five can be very empowering. This is precisely what draws entrepreneurs to online businesses because of the freedom it offers. Modern technology offers the tools that allow businesses to be operated from any location. Next time you are in a Cafe take a look around, you will find that someone is working on their online business or startup while connected to wifi and sipping their favorite latte.
4. Set your Own Schedule
You own your time – you are the boss!
You are free to set a schedule on par with your deadlines
Have more time for yourself and your life because you set your tempo
It's easy to develop

Work-life Balance

when everything is scheduled at your convenience
5. Work with your Passion
Don't you want to just work with what you know, what you do well, and what you love? An online business allows you to do just that!
5. Access the Worldwide Market
You are connected to different people from all over the world, there is a wide range of suppliers and customers to tap on. What you need to focus on now is to know how to reach them.
6. Incredible Scalability
Scaling any kind of business is not easy, but an online business has advantages. For instance, a brick-and-mortar retail store has a defined audience, typically a radius from the business location. An online business does not cater to these restrictions and can market to a worldwide audience.
7. Low Overhead, Huge Margin
Outsource your business: You don't need to have people on your payroll, paying them wages, extra taxes
Outsource almost anything you can think of: administrative tasks, accounting, design, content, marketing, and more
Eliminate huge costs: No need for office or retail space and long-term lease commitments
Eliminate having to tie up your money in stocking inventory.
8. Business is Open 24/7
Because you have a website, you'll tap into a global market and not restrict yourself to just making sales from local customers. There are no geographical boundaries and there are no specific hours of operation.
An online business can produce revenue around the clock, even while you sleep.
9. Expand your Connections
Surround yourself and connect with more like-minded people. Find people that share your dream and most importantly you have the freedom to choose more relevant work colleagues
10. Be 100% Independent
Create your own world and rely purely upon yourself
You'll get a new perspective on time. Time management is key
Work anywhere, anytime
You are solely responsible for the success and failure of your business
The most important thing is that working online allows you to focus on what's most important to you. Time for yourself, family, and people that matter.
If you are thinking of embarking on this journey try to check WHY PEOPLE ARE CHASING THE LAPTOP LIFESTYLE
SHARING IS CARING